Obamacare repeal at showtime: What you need to know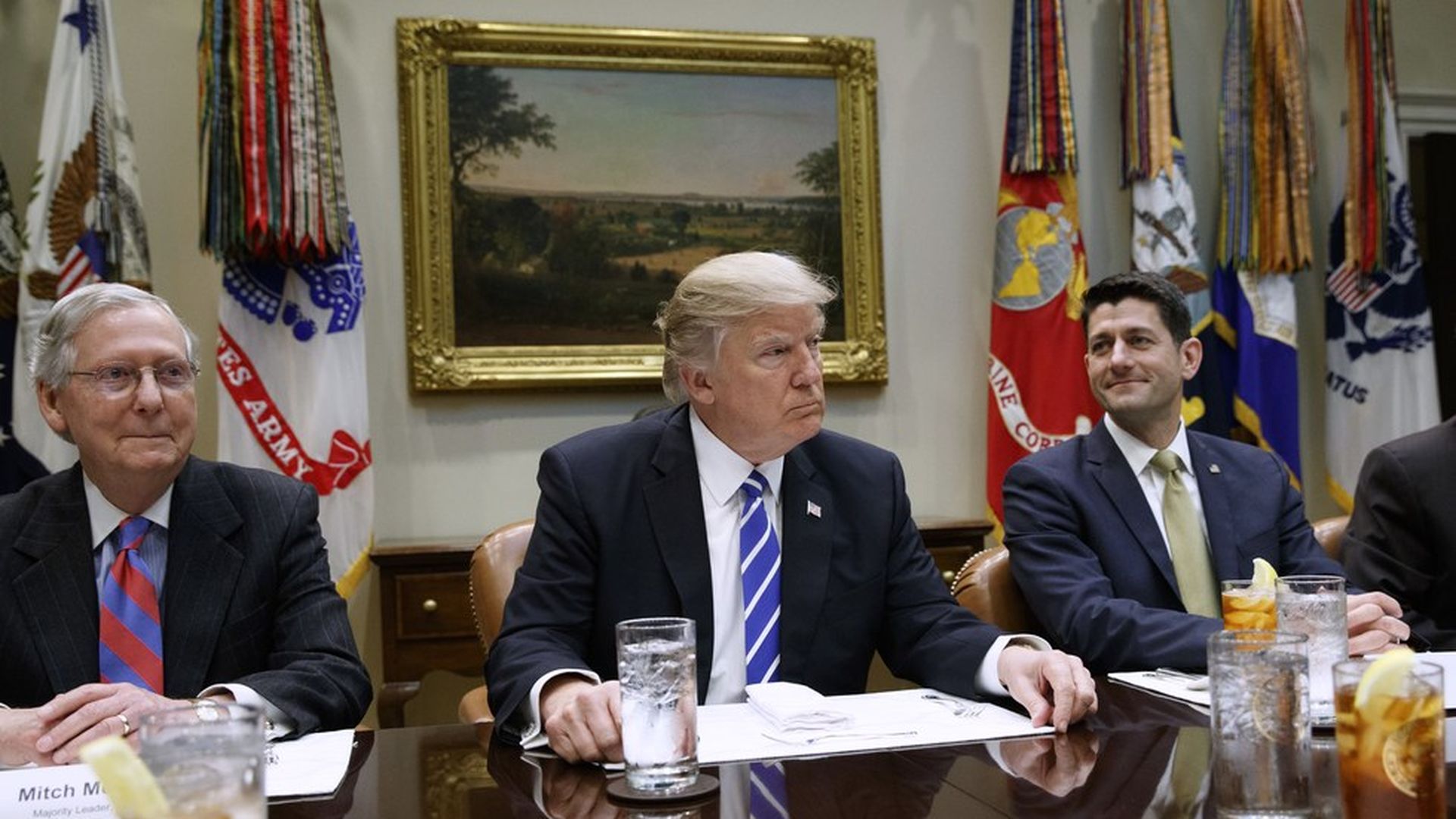 This is the week when House Republicans want to take up their Obamacare repeal and replacement bills in the main health care committees. A senior GOP aide says they're still doing the last-minute drafting and tweaks, but we should see the big release "early this week." Here's what you need to know.
Top Republicans insist there's not a huge mystery about what's in the replacement plan. On the Opportunity Lives podcast, House Speaker Paul Ryan said it's "very similar to the bill that Tom Price had worked on for so many years."
The main elements, per Ways and Means Committee chairman Kevin Brady on Fox News: repealing Obamacare's taxes, penalties and subsidies, giving states more control over Medicaid, creating new tax credits, and expanding health savings accounts.
But the final details could make the difference between covering a lot of people and covering almost nobody.
Jonathan Swan confirmed yesterday what has been widely suspected — that a big reason for the last-minute weekend scramble is that the early Congressional Budget Office coverage estimates were awful, and Republicans wanted to make them better.
Per Jonathan, House Republicans are adding an income cap to their tax credits. The exact details are TBD, but that's how they're going to target the tax credit better and avoid spending money on wealthy people.
That may not solve all of the problems with the flat tax credits in their first draft. Avik Roy, a conservative health care expert, tells me that unless there's a sliding scale, people could still face "benefit cliffs" — a big increase in costs the moment they make too much money to stop getting the credit.
In Oregon this weekend, Energy and Commerce Committee Chairman Greg Walden said everyone who's on Medicaid now will keep getting it, but that federal funding may be scaled back in the future "because this is not sustainable," per OPB.
In the meantime, Republican senators are warning GOP leaders not to present the bill to them as a "take it or leave it" repeal package. Sens. Rand Paul and Lindsey Graham both delivered that message at separate events.
And in case you thought GOP leaders could stop worrying about the moderates, Sen. Susan Collins said on "Face the Nation" that "there is not a consensus" on Obamacare replacement.
What it all means: The real suspense isn't what's in the bill — we already have a pretty good idea. It's whether it can pass at all.
Go deeper