GOP Rep. defends Korean trade deal Trump has threatened to end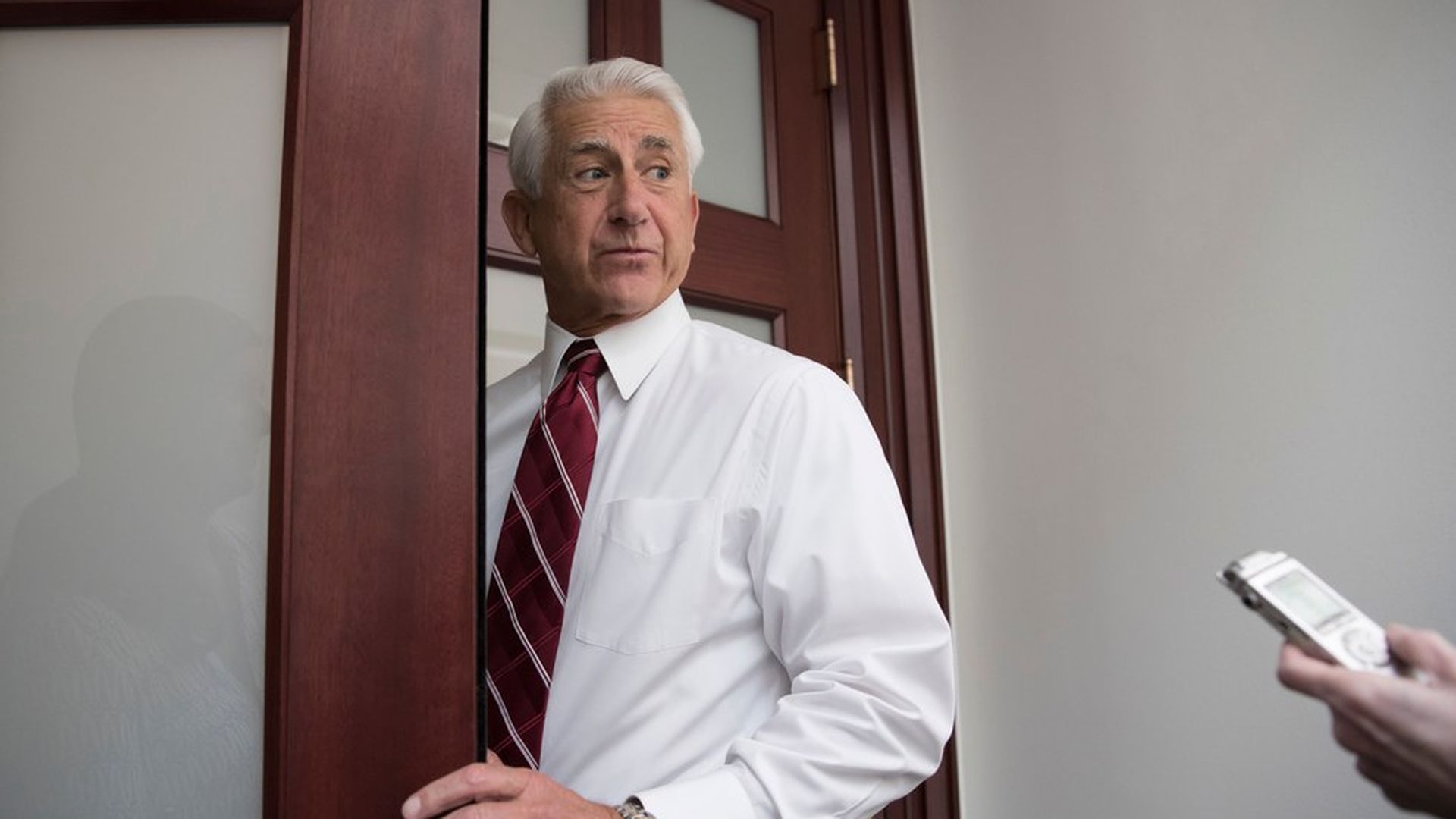 A Republican House leader on trade gave a full-throated defense of the U.S.-Korean trade deal on Wednesday, as anxiety rises in Washington that President Trump is on course to sink the deal. Rep. Dave Reichert (R-WA), who chairs the Ways and Means Trade Subcommittee, said in his opening remarks at an Asia-Pacific trade hearing: "I am convinced that KORUS, our trade agreement with Korea, has been a great success for both the United States and Korea."
Why this matters: Only Congress has the constitutional authority to slow — or stop — Trump from tearing up trade deals. (It's the subject of hot legal debate whether Congress can prevent the president from withdrawing unilaterally.) Regardless: members like Reichert will be crucial defenders of these deals as Trump and his top negotiator, Robert Lighthizer, continue down a path that many believe ends with the destruction of two major agreements — KORUS and NAFTA.
Reichert's remarks stand out because in the populist climate following Trump's election it's rare to hear members of Congress speak up about the benefits of America's trade deals. Many on Capitol Hill are realizing that now is an urgent moment as the fourth round of NAFTA negotiations began Wednesday and all signs point to peril for the deal.Trump has trashed the Korean trade deal, publicly and privately, and in late August was poised to withdraw the US from KORUS until top advisers intervened to slow down the process and ensure he was properly briefed on the economic and national security consequences of withdrawal. In a Sep. 5 Oval Office meeting Trump told Lighthizer to tell the South Koreans he was so crazy he might withdraw from the deal any minute. (But he then told his advisers that he actually might, suggesting this was no bluff.)
What Reichert said about KORUS:
"KORUS has been in place only five years, and some of the tariff reductions are still being phased in, especially for sensitive agricultural products, so we can expect even greater gains in the future. Even still, we have seen the benefits of KORUS throughout the United States, and particularly in my home state of Washington. Among other success stories, we have nearly doubled our cherry exports to Korea..."At the same time, Korea's implementation of certain portions of the agreement has been very disappointing, and I know some tough conversations are ongoing to address those problems. The best way to resolve these issues and instill confidence in both countries about the future of the agreement is to use the committee structure set up under KORUS."When we have a trade agreement in place, we can work to enforce the agreement and push our trading partner to live up to its side of the bargain. But our limited number of trade agreements in the Asia-Pacific region greatly reduces our leverage relative to competitors in other countries that have been more aggressive in negotiating trade agreements.
Go deeper