Dow Jones hits all-time high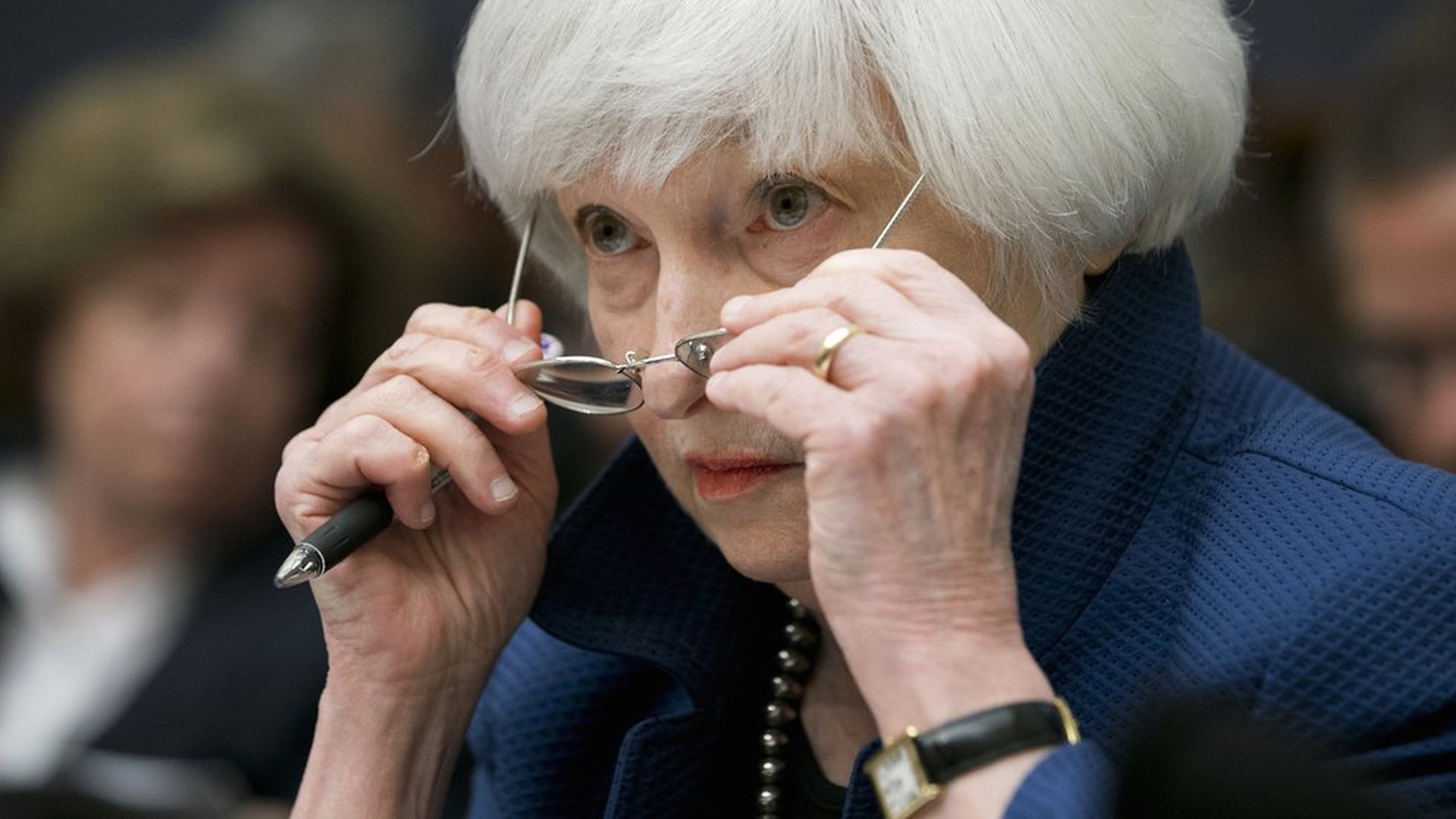 The Dow Jones Industrial Average hit an all-time high by 146 points Wednesday morning with Yellen's upbeat testimony on the U.S. economy on Capitol Hill, per CNBC, where you can see the latest on the Dow Jones. (For context, the S&P 500 gained 0.7% and the Nasdaq gained 0.9% this morning.)
Reasons to be positive include: economic growth hitting a stride after a slow first quarter and U.S. manufacturing and exports getting stronger.
So Yellen wants to keep raising interest rates but did not shed light on when that would happen. (The Fed has raised the interest rate three times since December to between 1-1.25%.) Wall Street is not entirely convinced an interest rate hike will happen, Business Insider reports.
No timeline yet on shrinking the Fed's holdings, which could stimulate the economy, but unwinding the holdings is likely to start happening this year. (The Fed has $4.5 trillion holdings of government bonds and mortgage-backed securities bought in response to the 2008 financial crisis.)
Inflation has been below the Fed's 2% target recently — some analysts note this should delay rate hikes, the LA Times reports. Yellen attributes that undershot to "a few unusual reductions in certain categories of prices," like wireless service plans and prescription drugs, and added it is "not a subject of discussion" to change the current inflation rate.
The Trump effect: Bankrate.com Senior Economic Analyst, Mark Hamrick, told Axios: "Yellen subtly notes that among the uncertainties facing the economy include 'changes in fiscal and other government policies,' meaning decisions taken by the president and Congress," referring to tax reform and infrastructure spending that hang in the balance.
Yellen will be submitting a written response to questions regarding "Fed Leaks," as the WSJ refers to them — i.e., the secret speech Federal Reserve Vice Chair Stanley Fischer gave at the Brookings Institution this March, in which he is suspected to have broken protocol given the sensitive nature of the monetary policy discussed. More via Business Insider.
Stay a step ahead: Yellen's appearances this week before Congress could be her last — her term is set to end in February and today she demurred when asked if she would say yes if Trump asked her to stay on. Politico reports Trump might nominate Gary Cohn, his current National Economic Council Director.
Go deeper