6 foreign strongmen Trump wants to work with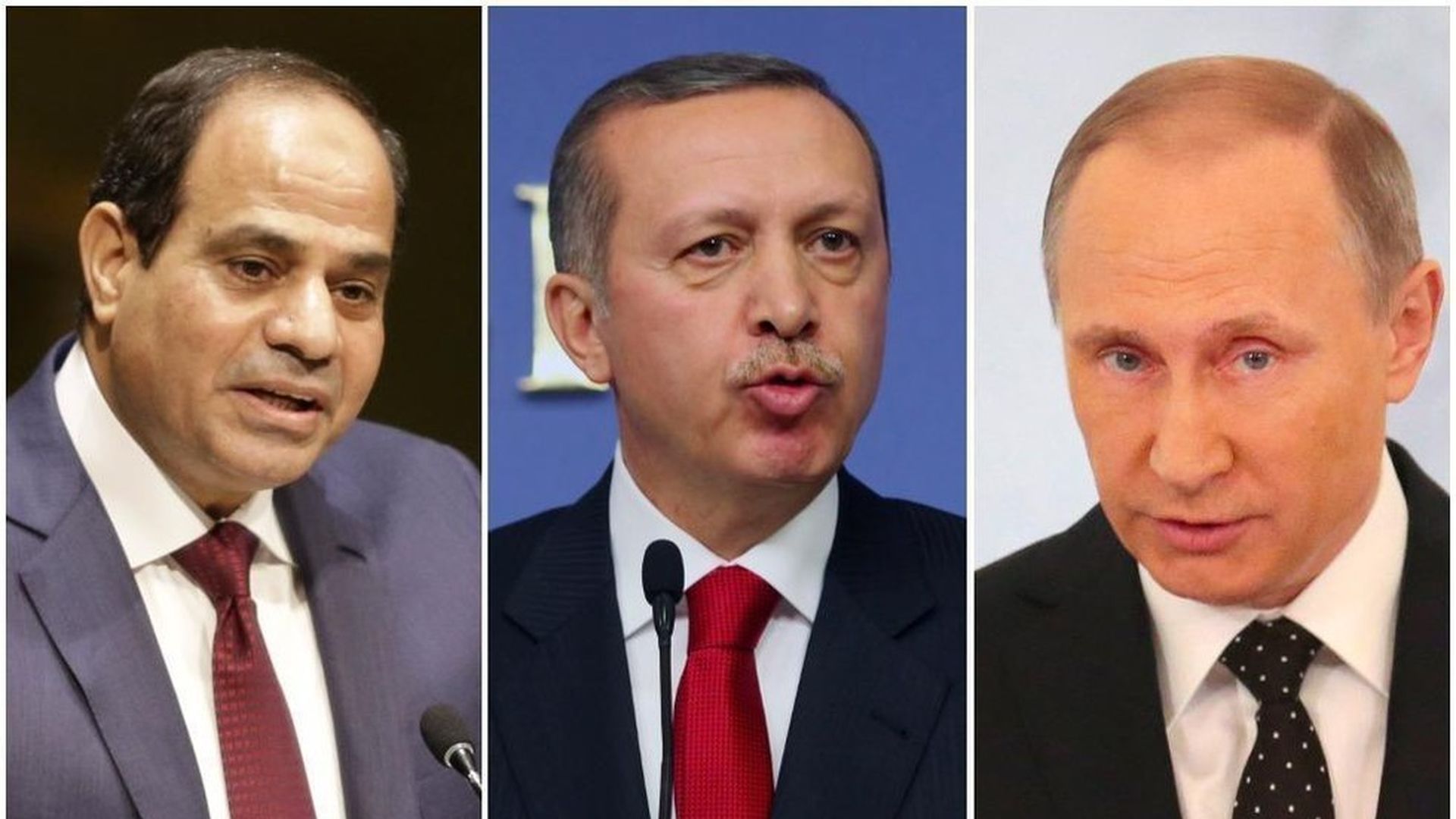 President Trump has repeatedly expressed willingness to work with, and even admiration for, foreign leaders with long records of human rights violations.
Why it matters: Trump's behavior suggests that he admires these strong displays of power pitted against the establishment's opposition. Foreign policy experts warn that America's credibility as the leader of the free world is at risk, as reaching out to these controversial foreign leaders goes against the nation's typical values.
Philippines: President Trump invited President Rodrigo Duterte to the White House.
"I'd be happy to slaughter them. At least if Germany had Hitler, the Philippines would have (me). You know my victims, I would like (them) to be all criminals, to finish the problem of my country and save the next generation from perdition." - President Duterte
North Korea: Trump said he would be honored to meet with President Kim Jong-un
"If the American imperialists provoke us a bit, we will not hesitate to slap them with a pre-emptive nuclear strike." -Kim Jong-un
Turkey: Trump called President Recep Tayyip Erdogan to congratulate him on gaining sweeping new powers in a controversial referendum.
"Democracy, freedom and the rule of law…For us, these words have absolutely no value any longer. Those who stand on our side in the fight against terrorism are our friend. Those on the opposite side are our enemy," -President Erdogan
Russia: Trump has said he respects Vladimir Putin and that the Russian president is "very much a leader."
Putin has jailed opponents and journalists and been accused of having critics killed.
Egypt: Trump met with President Abdel Fattah el-Sisi at the White House.
Fattah el-Sisi came to power in a coup and used brutal tactics to consolidate power. As Defense Minister of Egypt in 2013, he was one of the top administers behind the killing of around 1,100 Egyptian protesters in just two months.
Kazakhstan: Trump called President Nursultan Nazarbayev to congratulate him on the 25th anniversary of independence.
Kazakhstan's government was allegedly paying D.C. think tanks to write positive reports that ignored corruption, limits to freedoms, and ongoing prisoner abuse.
Go deeper